Sodium Cravings
** Introducing Apple Watch edition – View and select the right foods for breakfast, lunch, snacks and dinner that fits your daily Sodium intake goal. **
- A sleek glance interface indicates daily sodium intake status
- Get reminders for pills, doctor's appointments and food tracking
- An intuitive interface to select and record different meals of the day right from your iPhone or iPad or Apple Watch.
Lots of Apps can help you track your sodium intake, but can they also suggest what to eat for breakfast, lunch or dinner to meet your daily sodium intake goals? Can they tell you what your best or worst sodium cravings are? ... Now that is convenient and insightful!
+++ Find Sodium Content in 10,000 foods in built database. Source: USDA +++
+++ Used across 110 countries +++
"Sodium Cravings" ensures that you meet your daily sodium intake goals every day. It does this by analyzing your food habit and then by selecting and presenting the right breakfast, lunch, dinner and snack choices from within your list of foods, which will help you, meet your daily sodium intake goal.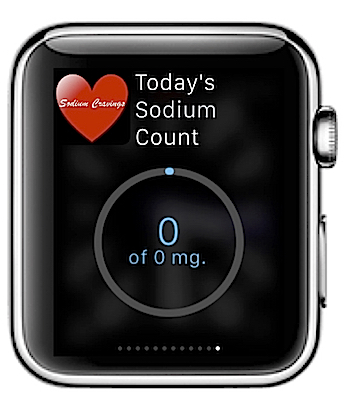 Track Sodium Intake on Apple Watch